This isn't your grandmother's way of quilting.
Now, your grandmother may be making that quilt using the latest computer and machine technology.
At the Great Falls Quilt Show over the weekend, several booths had on display machines that would stitch panels as well as an entire quilt.
A lady with Big Sky Quilts in Great Falls said that one of these machines can stitch a king size quilt in a day, whereas it would take a month – if you were able to stick to it for 30 days – the old fashioned way.
The quilt that won the People's Choice award at the show combined modern technology with the old way. The "Dear Jane" quilt by Diana Kirol of Great Falls used long arm free motion (machine) along with the traditional methods of "home sewing machine and hand quilted."
Jane A. Stickle of Vermont created the first "Dear Jane Quilt," starting in 1863.
True to that original design, Diana Kirol used Civil War fabrics for authenticity.
And, like the first "Dear Jane" quilt, this creation consists of 5,602 pieces, made up of 169 four-and-one-half inch finished blocks. There are 52 pieced side triangles, 56 solid fabric side triangles and four corner triangles. The quilt was started in 2009 and completed in 2021.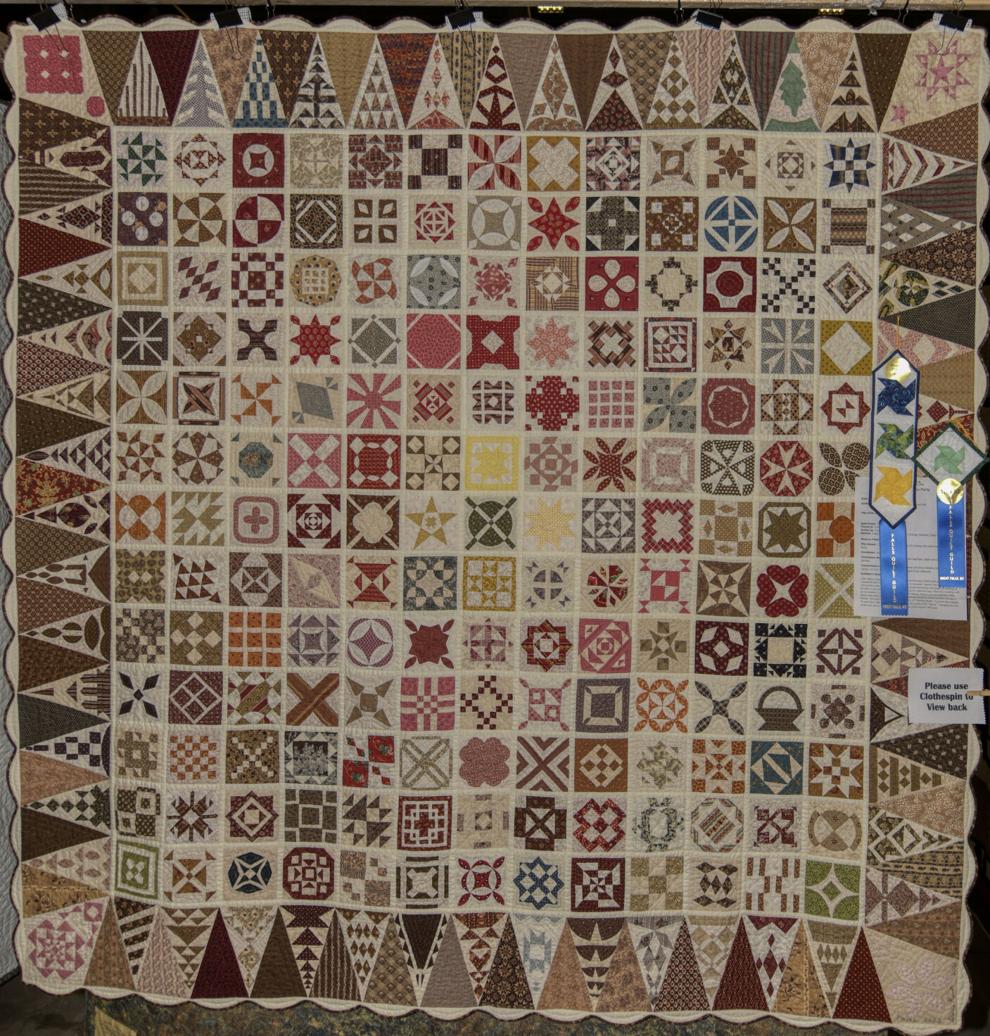 On Saturday, a sizeable crowd checked out the vendor booths as well as the 200 quilts on display.
Kay Butler, who handles award presentations and membership for the Falls Guild Guild said that the Guilt holds these events every two years. Last year's event was cancelled due to COVID-19.
The Guild formed in 1986, and the first quilt show was held about ten years later at Paris Gibson School.
"We had great attendance," said Butler, who added that the crowds at the shows are primarily "long term," experienced quilters. Compared to the last quilt show, Butler said that this year's quilts were "more dynamic and intricate… more amazing than those on display at the 2019 show.
The Falls Quilt Guild meets once a month, at the Great Falls Senior Center on the second Tuesday of each month at 7:00 pm. The meetings include a presentation for training and a show and tell. The Guild also gathers at the senior center for a "Sew Day," where they work on quilts to donate to children in the hospital; quilts for first responder vehicles and for hospice.
Guild membership is $15 per year.
For more information, contact the Falls Quilt Guild at 799-2763, or by email, fallsquiltguild @ gmail.com. The Guild also has a website, www.fallsquiltguild.org. You can also find them on Facebook.