Intel, Croma and Digit are coming together to set up a one-of-a-kind experience at the Intel EVO Day in Bangalore on 29th Sept. Some of the best tech influencers from Digit Squad and the Digit team will be there at the Croma Store in Bangalore (JP Nagar) to give you a close look at what makes Intel EVO-powered laptops, the absolute gold standard when it comes to premium laptops.
The Intel EVO Day is an exceptional opportunity for you to get your hands on some of the most premium laptops running on the Intel EVO platform. These laptops are geared to offer an uncompromised experience when it comes to performance, features, security and battery life.
Meet us at the event
Meet the Digit editorial team and learn more about Intel EVO from the experts as the managing editor of Digit, Mr. Mithun Mohandas talks about Intel EVO laptops and the technology that drives Intel EVO laptops. We will also have a list of some of your favourite and popular laptop and pc youtube influencers and content creators from Digit Squad at the Intel EVO Day at Croma. Get to meet Vimal Chintapatla (Tech Review HD),  Amal Gopal (Gadgets One Malayalam), Abhijeet Desai (Tech Unboxing), Lingraj Ramapur (NeedofPublic) and Abhijeet Kumar (Tech Guide). 
What is Intel EVO and why it matters
Intel Evo certified laptops are rigorously tested by Intel to ensure that they adhere to high-quality standards. The idea is to follow a human-centred approach and to improve the practical user experience. Intel Evo laptops focus on things that actually matter to modern users leading a fast-paced life and mandate minimum hardware specifications needed to realize seamlessly amazing experiences.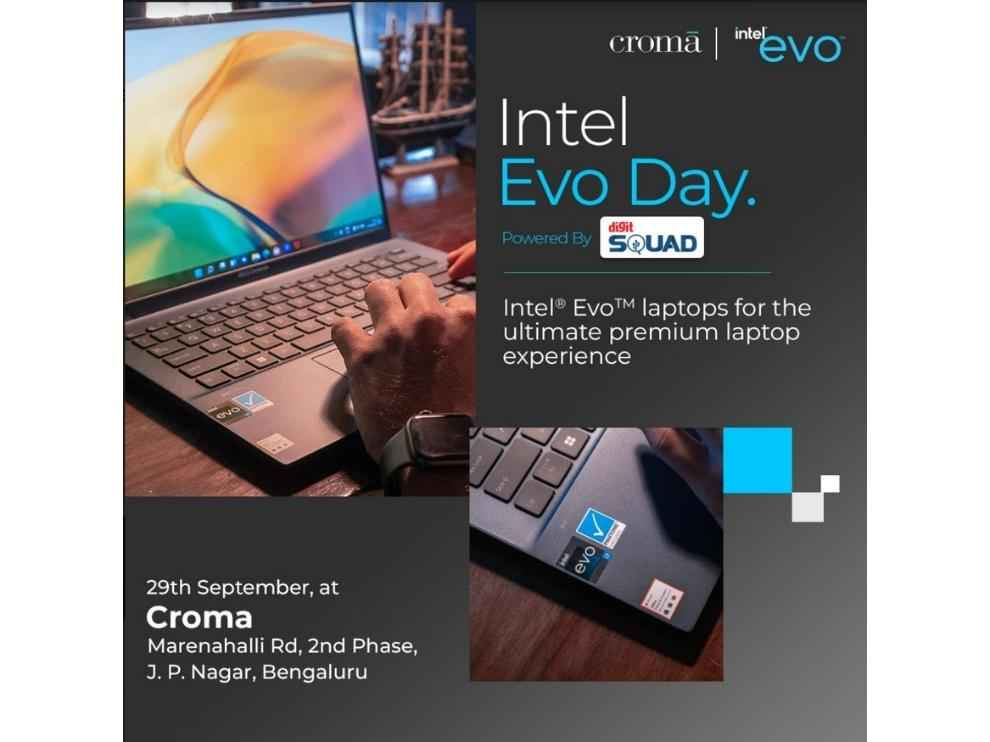 What you get when you buy an Intel Evo laptop: 
Premium design: Intel Evo laptops are slim and ultra-portable laptops that measure less than 1.5cm in thickness. This makes them ideal for users who are often on the move. 
Amazing battery life: Intel Evo laptops go through extensive battery testing in 25 real-world scenarios. They promise to deliver a consistent battery of at least 9 hours with everyday usage. Besides, these laptops also support fast charging via a USB Type-C port!  
Snappy performance: Intel tests these laptops for remarkable responsiveness. All Intel Evo laptops need a wakeup time of less than 1 second. Besides, these laptops employ the best of Intel's latest-gen processors backed by high-quality memory and storage. 
Superfast connectivity: All Intel Evo laptops include cutting-edge Wi-Fi 6/ Wi-Fi 6E for impressive wireless speeds. These laptops also include USB Type-C based thunderbolt ports for super-fast wired connectivity.  
Remarkable Video calling: All Evo branded laptops include at least 720p HD Webcam and support high-fidelity audio. They also support super-fast Wi-Fi, AI-assisted dynamic background noise suppression, and far-field voice services to take the video calling experience to the next level. 
You are Invited!
Want to be a part of Intel EVO Day to experience truly premium laptops and know more about Intel EVO? Register here to join us at the Croma Store at JP Nagar, Bangalore on 29th September to talk Intel EVO and get your hands on the best premium laptops you can buy today! What's more, there's a cool contest that can win you exciting prizes and goodies as well!