Need help with dinner plans? Your next kitchen appliance can assist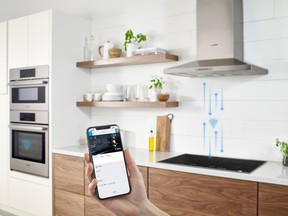 Reviews and recommendations are unbiased and products are independently selected. Postmedia may earn an affiliate commission from purchases made through links on this page.
Article content
Kitchen appliances are big-ticket items. Most of us don't change them unless one breaks down and can't be repaired or if a kitchen is being renovated. Yet, with technological innovation and the integration of artificial intelligence (AI) in appliances, upgrading your fridge or oven is becoming more like upgrading your communication devices, like a smartphone or laptop. Modern kitchen appliances use AI technology to work more efficiently and provide more functions than conventional lower-tech versions.
Article content
"The single biggest (innovation) is a system we call Home Connect, which is our smart system," says Steve Preiner, director of marketing for Bosch at BSH Appliances. "Basically, it enables you to control, monitor, do a whole number of functions from your smart device, your phone, your iPad. It adds a level of convenience to the everyday use of appliances that we sort of take for granted."
Article content
That connectivity allows the consumer to monitor the timing of dishwasher cycles or pre-heat ovens while still shopping at the grocery store.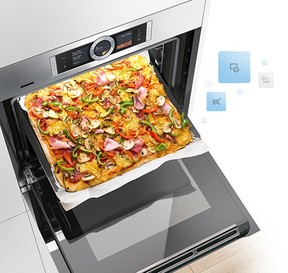 "Appliances with intelligent features further enhance the culinary experience and offer consumers a convenient way to cook in the kitchen," says Pat Bugos, senior vice president of consumer electronics at Samsung Canada. "For example, with SmartThings Cooking, users can receive recipe recommendations and information to help them save time on both prep and cooking. It recommends recipes that fit users' tastes and dietary restrictions and then builds meal plans to match."
Article content
Samsung AI ovens include the Smart Dial feature, which takes note of the homeowner's cooking habits and will preselect cooking modes, temperatures and cooking times, continually adapting to the cook's preferences, Bugos explains.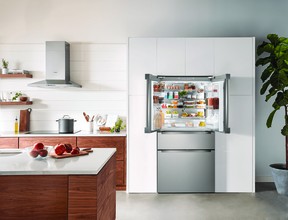 Added functions boost convenience and even give a nod toward sustainability while tapping into consumers' awareness of the importance of a healthy diet for optimum wellness. Bosch has incorporated an air fryer into its wall oven units which frees up counter and storage space by integrating a small appliance into a larger one.
"Air fryers are typically thought of as a countertop device," Preiner says. "From a capacity standpoint, a wall oven is going to allow you more volume in there using the air fryer function. It's also part of a trend toward healthier cooking. That's something that we are mindful of as well."
Article content
The new beverage or wine drawer in Bosch's French-door refrigerator line can replace a wine fridge and also improves energy efficiency as the doors to the fridge aren't being opened and closed, avoiding a temperature drop just to extract a beverage.
That same French-door line of Bosch fridges ramps up food preservation to minimize waste with a new technology that reduces the amount of off-gassing of fruits and vegetables. Preiner says this innovation preserves the life of delicate things, like strawberries, much longer.
"It's basically a filtering system," Preiner explains. "It's called Farm Fresh. That's our trade name for it. It reduces food waste. The effect is economic as well as sustainable."
From a purely esthetic position, Samsung recently introduced their Bespoke colour panel collection that offers consumers greater options to customize their kitchens. While appliances that came without doors or outer panels could be fitted with ones to match custom kitchen cabinetry have been available for quite some time, the Bespoke collection is not about camouflaging the appliance but making it a design feature. The Samsung collection has a range of different colours and finishes, which can be switched out when tastes change without having to replace the appliances.
Article content
Bespoke refrigerator glass finishes include charcoal, grey, pink, and white, along with new shades of yellow, orange, and blue. The steel finishes include matte black, navy, stainless and green. The Bespoke ranges come in navy steel, white glass, black stainless steel and stainless steel. The dishwashers are available in green and navy steel, matte grey and white glass.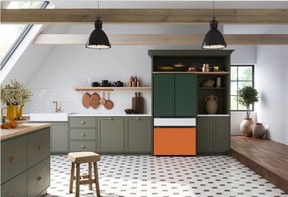 "The Samsung Bespoke lineup was created in response to consumers' growing desire to have a home that reflects their personality and style—whether that's bright contrast, warm tones, or a traditional look," Bugos says. "They are beautifully designed, flexible to fit every lifestyle and seamlessly connected for maximum convenience."
For Bosch, the look isn't about colour but about streamlining the esthetic. Preiner says there's a trend toward a cleaner look. Its new line of French-door refrigerators have eliminated handles and instead have indented pulls for opening the fridge doors.
Article content
Preiner believes Bosch's new dishwasher drying technology will be warmly welcomed by consumers as wet dishes, especially wet plastic, are a common complaint.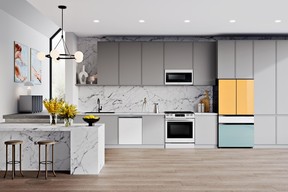 "In some of our higher models, we've introduced something called Zeolite," Preiner says. "Zeolite is actually a mineral that's inside a container in the dishwasher. What happens is when the cycle is done, you've got all this hot, moist air in there, and it flows this air over the mineral, and it actually absorbs the moisture, and it creates heat at the same time. The heat aids in drying at the same time it's taking moisture out of the air."
With all the recent technological advances, especially with comprehensive AI integration, is this the direction for all appliances? Are the days of lower-tech conventional appliances essentially gone? Pat Bugos thinks so.
"SmartThings Cooking, Wi-Fi Connectivity and Voice Control have already become standard connected features across Samsung ranges, including Bespoke, electric, gas, and induction. The future is already here with SmartThings Cooking, delivering a personalized and interactive cooking experience," Bugos observes.